Publié le 12 Novembre 2014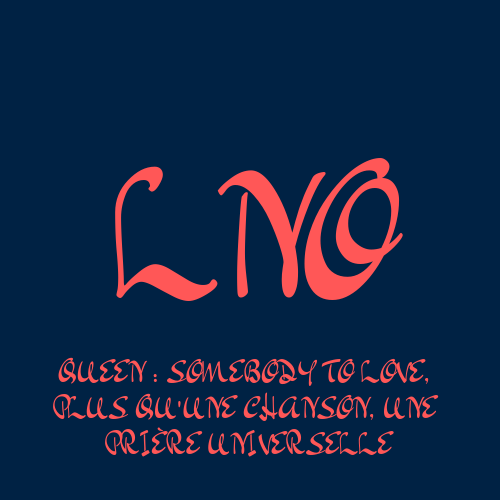 Somebody to Love est une chanson du groupe britannique Queen écrite par Freddie Mercury, sortie en single en 1976. Elle figure sur l'album A Day at the Races, sorti peu après.
Tout comme Bohemian Rhapsody, l'énorme succès du groupe sorti l'année précédente, Somebody to Love comprend une mélodie très complexe et des chœurs enregistrés en plusieurs prises, le tout cette fois sous un arrangement Gospel. Cet arrangement a été créé à partir d'enregistrements multiples des voix de Freddie Mercury, Brian May et Roger Taylor, pour donner l'impression d'un chœur de plus de 100 personnes. Les thèmes de la chanson sont la foi et le désespoir ; le chanteur s'interroge également sur son manque d'expérience amoureuse et sur le rôle et l'existence de Dieu.
Can anybody find me somebody to love?
Ooh, each morning I get up I die a little
Can barely stand on my feet
(Take a look at yourself) Take a look in the mirror and cry (and cry)
Lord, what you're doing to me (yeah yeah)
I have spent all my years in believing you
But I just can't get no relief, Lord!
Somebody (somebody) ooh somebody (somebody)
Can anybody find me somebody to love?
I work hard (he works hard) every day of my life
I work 'til I ache in my bones
At the end (at the end of the day)
I take home my hard earned pay all on my own
I get down (down) on my knees (knees)
And I start to pray
'Til the tears run down from my eyes
Lord, somebody (somebody), ooh somebody
(Please) can anybody find me somebody to love?
Everyday (everyday) I try and I try and I try
But everybody wants to put me down
They say I'm going crazy
They say I got a lot of water in my brain
Ah, got no common sense
I got nobody left to believe in
Yeah yeah yeah yeah
Oh, Lord
Ooh somebody, ooh somebody
Can anybody find me somebody to love?
(Can anybody find me someone to love)
Got no feel, I got no rhythm
I just keep losing my beat (you just keep losing and losing)
I'm OK, I'm alright (he's alright, he's alright)
I ain't gonna face no defeat (yeah yeah)
I just gotta get out of this prison cell
One day (someday) I'm gonna be free, Lord!
Find me somebody to love
Find me somebody to love
Find me somebody to love
Find me somebody to love
Find me somebody to love
Find me somebody to love
Find me somebody to love
Find me somebody to love love love
Find me somebody to love
Find me somebody to love
Somebody somebody somebody somebody
Somebody find me
Somebody find me somebody to love
Can anybody find me somebody to love?
(Find me somebody to love)
Ooh
(Find me somebody to love)
Find me somebody, somebody (find me somebody to love) somebody, somebody to love
Find me, find me, find me, find me, find me
Ooh, somebody to love (Find me somebody to love)
Ooh (find me somebody to love)
Find me, find me, find me somebody to love (find me somebody to love)
Anybody, anywhere, anybody find me somebody to love love love!
Somebody find me, find me love