Aymee Nuviola - La Negra Tiene Tumbao (feat. Kat Dahlia)
AYMEE NUVIOLA "La Sonera del Mundo"
From the world, for the world.
Once upon a time, music fit neatly into well-defined sections at record stores. Genres like rock, pop, jazz, salsa, tango and classical all had their own artists, audiences and venues.
Cuban music though, was always the exception to the rule. For generations, from Ernesto Lecuona to Israel López Cachao and beyond, top Cuban musicians have been able to toggle easily between styles.

From the infectious rhythms of Mambo, Son, Guaracha and Charanga to heart wrenching down tempo genres like Bolero and Fílin, every major Cuban star from Beny Moré to Celia Cruz has prided themselves on this innately Cuban ability to create quality across many genres.

Aymée Nuviola, like Cuba itself, embodies that magical blend. Born into a family of musicians, some of her earliest memories are at the piano, working through melodies between lessons. Later, as she was receiving her classical training at Cuba's top musical academy, she recalls her fascination with all kinds of music, from Debussy to Bossa Nova.

In her latest production, "First Class to Havana" Aymee has seamlessly blended her influences into musical creations and performances that leave listeners thirsty for more.
Aymée's music is an island without borders, open to the world, friendly, upbeat, smart and willing to share her most personal, intimate truths with the world.
FAST FACTS:
Born:
Havana, Cuba
MUSICAL INFLUENCES & MENTORS:
Classical, American Jazz and Pop, Bossa Nova, Cuban Son, Bolero & Fílin
FORMAL TRAINING:
Began playing piano at age 3, Manuel Saumell Conservatory, Havana, Cuba, mentored by legendary Cuban pianist Frank Fernández
LEAD VOCAL RECORDINGS:
Various top-tier Cuban acts including Irakere, Gonzalo Rubalcaba, NG La Banda, Pachito Alonso, and others.
STYLE:
Multi-genre artist with a wide range that goes from the most intense uptempo Cuban timba dance music, to soulful delicately crafted ballads. Incredibly gifted real-time improviser (sonera), her deep, rich voice is evocative of Sarah Vaughn and
has been compared to "the nimble freshness of Billie Holiday".
PERFORMANCE HIGHLIGHTS:
She has performed across the globe including Cuba, Mexico, Chile, Argentina, Uruguay, Panama, Brazil, Spain, Italy, France, Hungary, and in various major venues in the United States including Madison Square Garden and others.
MAJOR COLLABORATIONS:
Salsa Giants World Tour with Sergio George, Omara Portuondo, Fania All Stars, Chucho Valdés, Gloria Gaynor, Johnny Ventura, Oscar D'León, Rey Ruiz, Michael Stuart, Cheo Feliciano, Rubén Blades, Amaury Gutiérrez, Luis Enrique, and many more.

Aymee is a featured artist on Andy Montañez Grammy® nominated album "El Godfather De La Salsa", "Guantanamera" of "Playing for Change", and Cubadisco 2014 nominated for best songwriter artist with her album "En la Intimidad".

Her versatile talents allow her to perform across genres, ranging from upbeat salsas, bachata, jazz and boleros, to bossa nova, nueva trova and sultry ballads.
Biography of Aymee Nuviola from Cuba and New CD " La Sonera Del Mundo" By: Aymee Nuviola
Aymee Nuviola, hoy conocida como La Sonera del Mundo, nacio en La Habana Cuba, estudio musica desde pequena en la escuela de arte, en la especialidad de piano clasico. Es compositora, cantante ...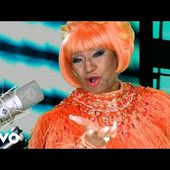 Celia Cruz - La Negra Tiene Tumbao - LNO
La negra tiene tumbao est le 59ème album de la chanteuse cubaine Celia Cruz produit par Sony Music et sorti le 6 novembre 2001. AYMEE NUVIOLA "La Sonera del Mundo" From the world, for the world ...
http://musique.arabe.over-blog.com/2017/11/celia-cruz-la-negra-tiene-tumbao.html